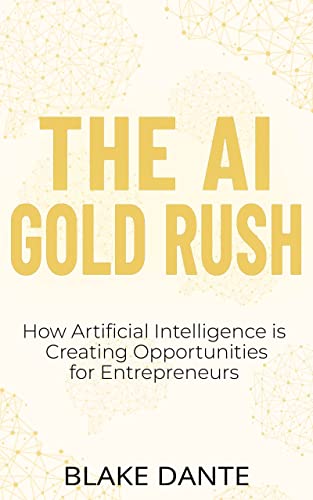 03/10/2023
Are you ready to join the AI revolution and take your business to the next level?
The AI revolution is here, and it's creating a gold rush of opportunities for entrepreneurs. In this insightful and engaging book, you'll discover how artificial intelligence is changing the game for businesses of all sizes, and how you can leverage these advancements to get ahead in your industry. This book is a is a must-read for entrepreneurs starting out or looking to scale their businesses
In this book, we dive into the AI revolution and explore the ethical considerations of this powerful technology. From there, we delve into the practical applications of AI in business, innovation, marketing, and finance, providing real-world examples of successful implementation.
You'll gain a deep understanding of how AI can revolutionize your business and the steps you can take to leverage its power. You'll also learn about the latest trends and future developments in AI entrepreneurship, helping you stay ahead of the curve and capitalize on emerging opportunities.
Whether you're a seasoned entrepreneur or just starting out, "The AI Gold Rush" will give you the tools and knowledge you need to thrive in the rapidly evolving landscape of AI. Don't miss out on this opportunity to stay ahead of the curve and drive your business forward with AI.
Introducing an indispensable guide for entrepreneurs seeking to navigate the ever-evolving landscape of artificial intelligence. This comprehensive volume covers the AI Revolution, exploring its origins, its rapid advancement, and its potential implications for businesses of all sizes. Ethics and AI are given particular attention, as readers will learn how to ensure their ventures operate with integrity and responsibility.
From there, readers will discover how AI can benefit businesses in a multitude of ways, from optimizing financial operations to improving marketing campaigns. Innovative applications of AI are explored, as are emerging trends in the field.
So if you want to join the AI gold rush and take your business to the next level, this is the book you've been waiting for. Get your copy today and start turning AI into a powerful force for growth and innovation.